LEDGE Prime Plus Wifi - Black
Prime grills just got even better with the same great Prime features PLUS a collapsible front shelf, interior grill light, rotisserie enabled mounting and stronger reinforced grates. Prime models are built even smarter and stronger. 12V direct power design provides better temp control, greater pellet fuel economy and faster startups! With micro-adjustment capability in the variable-speed fan and auger motor, you can maintain more consistent grill temps. With the grill and pellet view windows you can keep an eye on your food without letting your smoke escape and monitor your pellet supply.
Experience a better way of grilling with 100% natural wood pellets
Experience ease and versatility
Venturi-style firebox creates the ultimate wood-burning fire
Features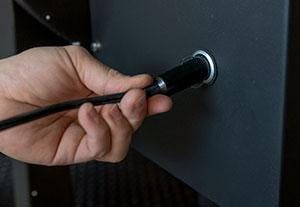 12V Direct Power
The new standard in outdoor bbq provides for more safe and efficient power consumption, faster start ups, and greater pellet fuel economy.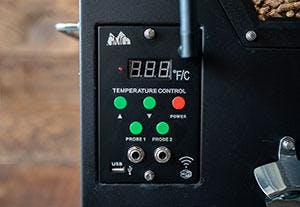 Digital Controller
Designed for precise temperature management with a 150°-550°F range with 5° increment control. Includes WiFi Smart Control, dual meat probes and a USB charging port.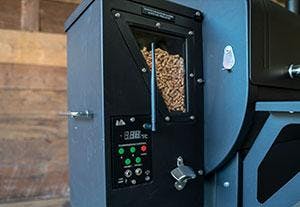 Pellet Hopper
Optimal 18 lb pellet capacity with pellet view window to keep an eye on your pellet usage. Comes standard with a pellet door on back for easy pellet clean out and a convenient bottle opener on the front.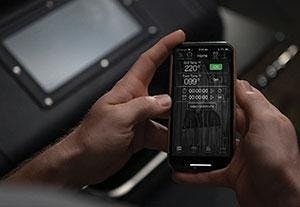 WiFi Smart Control
Control and monitor grill and internal food temps to-the-degree and on-the-go from the GMG App with access to a huge selection of recipes and grilling profiles.
Related Products
Green Mountain Grills Rotisserie Kit - Ledge / DB Prime+
GMG Wood-Fired Pizza Attachment (Ledge & Peak JB/DB)
GMGrills DRIP-EZ Grease Tray Inserts (Ledge / DB)
Green Mountain Grills Thin Blue Smoke Tube